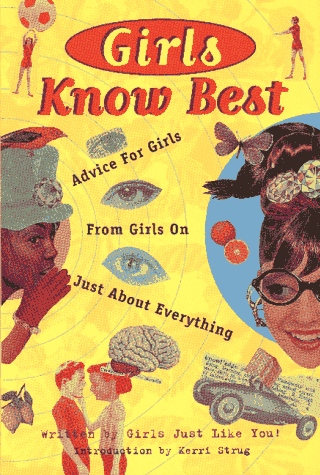 Girls Know Best by Girls Just Like You!
Introduction by Kerri Strug

YES! This book WAS written by girls age 7 - 15. Each chapter, written by a different couple of girls, gives advice on such topics as sister survival, figuring out guys, enjoying sports, understanding friendship, handling parents' divorce, dealing with differences, what to do about drugs, avoiding life's most embarrassing moments, home-made beauty recipes, unlocking the writer inside you, and more!
I just checked out Amazon.com and saw that girls wrote sequels to this book! You can order this book at Amazon right now for $8.05. HIGHLY recommended!
---
Girl Boss by Stacy Kravetz

The forward of this book is written by Gillian Anderson, who plays Special Agent Dana Scully on The X-Files. In the TV show, she plays the role of a strong woman, an excellent example for girls everywhere. This book tells girls that they can be entrepreneurs. You can purchase this book at Amazon.com for $14.35.

---
Girl Power by Hillary Carlip

I haven't read this book yet, but it looks excellent. Just check out http://www.girlpower.com! You can get this book on Amazon.com for $12.59.
---
Body of Evidence by Christopher Golden

Thank you, Little Willow, of the Michelle Trachtenberg site Be Back Before Dawn, for bringing this series of books to my attention. "They revolve around a 19 year old girl named JennaBlake," she says. "They are superb!" To find out more about these books, click on the picture. You can get the first of the series from Amazon.com for $4.49.