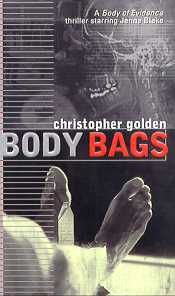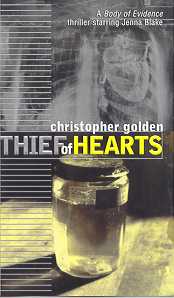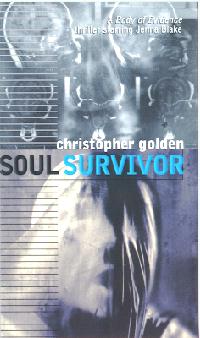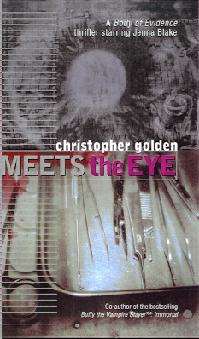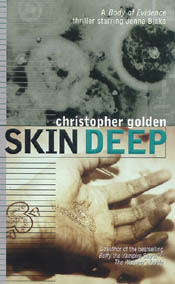 Body of Evidence, Christopher Golden's newest series of Young Adult mystery thrillers, began hitting bookstores in May 1999. The series revolves around Jenna Blake, a freshman in college, a "young Scully"... a girl about to step into a world of mystery and intrigue.
Body Bags
May 1999
"The first day at college, my professor dropped dead. The second day, I assisted at his autopsy. Let's hope I don't have to go through four years of this . . ."
When Jenna Blake starts her freshman year at Somerset University, she's not only living on her own for the first time, she's moving closer to the father she never really knew. It's an exciting time, filled with new faces and new challenges, not to mention parties and boys and . . . corpses?
Jenna is torn about her future. She'd like to be a doctor like her mother, but she can't stand the sight of blood. Her father, a criminology professor, thinks he has the answer -- and sends her to interview for a job with the Medical Examiner -- an interview that takes place in the middle of an autopsy!
When a congressional aide goes violently insane, and then drops dead, the pathology team at Somerset Medical Center discover that his brain was ravaged with disease -- and loaded with insect larvae. When Jenna takes on her new job, she is drawn into a web of terrifying disease, dangerous politics, and intriguing mystery. And when one of her professors ends up dead, she starts making connections even the police haven't seen . . . which will bring her face to face with a pair of killers, one medical, and one all too human.
Thief of Hearts
August 1999
"Why would anyone want to tear out someone's heart . . ."
That's the very real question facing college freshman Jenna Blake, and it has nothing to do with romance and heartbreak. A second grisly murder-mystery is unfolding at Somerset University, and her job as a pathology assistant at the local hospital brings Jenna too close to the haunting crimes.
Everyone has a theory on the nature of the killings, including Jenna's older half-brother, Pierce Logan, who's new in town and has some odd ideas about why someone would want to steal a human heart.
Meanwhile, Jenna is working on her own heart, and starting to realize she's not as "guy-blind" as she thought, when she meets a fascinating older man.
But there's little time for dating when the Thief of Hearts declares Somerset the perfect hunting ground -- and someone very close to Jenna is the prey.
Soul Survivor
November 1999
"There's nothing magical about murder . . . "
Santeria markings. Hindu magick. Druidic runes. Japanese mysticism. The latest series of murders in Somerset has everyone confused, including the local police and the Medical Examiner's office. They seem to be the work of one killer, but each murder has a completely different, ritualized, M.O.
Working alongside her boss, Dr. Slikowski, Jenna Blake is back on the research trail, trying to discover the identity of the killer. Unfortunately, Jenna is still grieving over the murder of her friend Melody, and is becoming distracted by her growing feelings for Somerset detective Danny Mariano.
Jenna needs to do some serious soul-searching. Her mind isn't on the job. But if she doesn't start paying attention, and find the connection between these tirual murders, Jenna may not survive her first semester.
Meets the Eye
February 2000
"There's no such thing as zombies. Of course I know that. But I also know what I saw with my own eyes, and until I find the truth of it, that's going to haunt me."
Freshman year is supposed to be filled with new experiences, but Jenna Blake's not sure she's ready for all of the changes her life has gone through recently. She's lost one close friend to a tragic crime, and two others are now becoming romantically involved. Jenna is further unsettled when a baffling new case presents itself at the medical examiner's office, where she works as an assistant.
The Boston area is experiencing a crime wave which includes both major theft and murder. The problem is, each of the criminals is someone that Somerset Medical Center has declared legally dead -- and who has been buried.
Jenna has to piece together an explanation for these "zombie crimes". She knows that there's more going on here than meets the eye. The dead can't really rise from their graves -- or can they? One thing's for sure . . . she doesn't want to find out the hard way.
Head Games
June 2000
"They were my friends. I've known them almost my entire life. Maybe they both just lost it. But I think something's going on here, and I have to take a closer look."
Home from college on break, Jenna Blake is horrified to discover that a childhood friend has murdered his entire family -- and he's not the only one. During the next two days, several other area teens experience homicidal rages, but are later unable to explain or even recall their actions.
The police are leaning toward the popular explanation: brutality influenced by violence in movies and video games. But when Jenna investigates further, she begins to believe that someone is playing sinister head games with her former classmates...and with her, as well.
What Jenna needs is someone to take her seriously, but Slick is preoccupied with a mystery of his own, her father has taken off for France, and her college friends have all gone away for the holidays.
Jenna's on her own this time.
Skin Deep
October 2000
"A girl is dead, and one of your best friends got his head cracked with a shovel, because some white guy didn't want to see them kiss.."
When Jenna and Damon first began dating, neither worried too much about the other's skin color. After all, Somerset is a pretty liberal college environment. But when a black couple is attacked by a white man on campus, race relations become cause for frenzied peace rallies, protests, and debate for the entire student body. Suddenly, Jenna has her hands full investigating the attack - and defending her interracial romance...
Then a white student turns up dead at the hands of a black assailant.
As racial tension reaches a fever pitch on campus, the crimes continue, growing increasingly brutal. Strangely, in each case no two witnesses can form the same description of the perpetrator.
The people are looking for two young men. Until one assailant, pronounced dead at the crime scene, disappears...
"Demonstrates Golden's sense of the truly morbid and his knack for uncomfortably realistic medical dialogue."

--Publishers Weekly
---